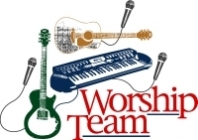 Sunday Morning Worship – 2 styles
8:30 a.m. Modern Worship
10:55 a.m. Traditional Worship
Praise & Worship Band
(8:30 a.m. worship – Sundays)
Praise & Worship Band leads the 8:30 a.m. worship service in praise of Jesus Christ. This group performs in a variety of styles: acoustic folk, praise choir, contemporary worship, and rock. Practice is every Sunday morning at 7:30am and also on Wednesday evenings at 7:00pm. Contact Amanda Presley
Chancel Choir –
(10:55 a.m. worship – Sundays)
The choir's focus is to bring the Word of God to the congregation and community through music and to have a good time while doing it. We work on a variety of music from gospel and contemporary to traditional religious music. We present a choral anthem each Sunday. We also prepare and present both an Easter and a Christmas cantata. Anyone from 7th grade up is welcome to join. Members of the choir range from 13 to 84.
The choir rehearses upstairs on Wednesday nights at 6:00 p.m. during the school year. We gather on Sunday mornings at 10:35 a.m. to warm up before singing during the 10:55 service.
Contact: Kate Dietzel
CHILDREN & YOUTH
At both the 8:30 and 10:55 am worship services you will see that children and youth are active participants, learning to worship with their church family Sunday after Sunday. Packets are kept in the lobby with coloring and worksheets available for children to use during worship. A Nursery is available for infants through three year olds. Breastfeeding mothers are welcome to use the nursery.
CHILDREN'S CHURCH
Children's church offered during both services for ages preschool-3rd Grade except the first Sunday of the month so children may take communion with their families.
Events for week of February 17, 2020
This Week Navigation
February 19 @ 7:00 pm
-
8:00 pm
February 23 @ 10:55 am
-
12:00 pm
Mail
office@wagonerfumc.org
Address
308 Church Street
PO Box 394 (zip 74477)
Wagoner, OK 74467
Sunday Worship Service Times
8:30a Contemporary
9:45a Sunday School
10:55a Traditional